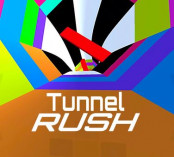 Tunnel Rush
Fun and exciting, Tunnel Rush is a 3D running game set in a dramatic underground environment. You need to make a break for it through the tunnel as fast as you can or you'll be captured by the enemy. You'll need all of your agility to make it through the tunnel without being captured.
The ability to anticipate risks and prepare for them is crucial. Identify and then get ready for any threats you may face. If you give yourself enough time, you can get past any difficulty.
If you're interested, you can also check out Moto X3M and Idle Breakout.
Controls
Left and right arrow keys / A, D - Move left and right.
Space - Pause / restart.