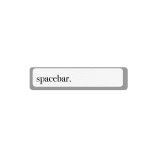 Spacebar Clicker
Spacebar Clicker is an idle entertainment game that is ideal for players who want to unwind in their spare time. To begin, simply click and click. Isn't it simple? Don't stop earning points! When you've accumulated a certain amount of time, convert it to points. Your score will rise, and your clicks will need to rise as well. The more you click, the higher your score. Furthermore, when you do not have time to play, the game automatically accumulates points.
Similar games
Idle games are a fantastic solution for everyone. Play whenever and wherever you want! Check out these other games:
Controls
Earn points by clicking or pressing the spacebar.