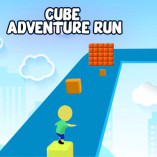 Cube Adventure Run
Cube Adventure Run is a platform running game in which you collect blocks of the same hue as you go. Blocks of various colors will lower the number of achievements you have accumulated along the route. Walls are significant impediments for you. You must collect as many square blocks of the same hue as you can. If you are not tall enough, the wall or obstruction in front of you will stop you from reaching the finish line. The more blocks you collect, the better your chances of winning.
Avoid colliding with other blocks and try to cover as much ground as possible. Avoid obstacles by moving left and right. You must overcome all challenges and explore all levels. What are your accomplishments? If you enjoy similar games, you should try Long Neck Run 3D.
Controls
Use AD key to move.
Use left mouse to move and collect cubes.