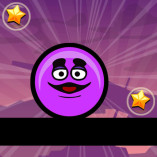 Rotating Grimace
Rotating Grimace is a puzzle game with more than 40 levels. You will be transformed into the monster Grimace in a completely different form. You must control your round shape in order to move and collect different stars. You can advance to the next level once you have collected enough stars. To progress, you must be able to reason and solve puzzles continuously in order to complete each level.
You always laugh when you see the purple ball with a grimace. Move forward without pause. To solve puzzles as quickly as possible, use physical features. Every puzzle has an answer! Let's start playing Rotating Grimace right now!
Controls
Use the mouse to play.