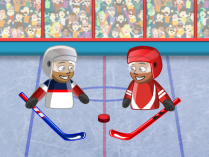 Puppet Hockey
Let's start playing Puppet Hockey! Win the world hockey championship by competing against other puppet opponents. Select a team and defeat your opponent in 60 seconds. To score, you must have quick reflexes and time your shot perfectly. Step back and defend your goal from your opponent's shots. Accelerate and score as many points as possible.
Develop both defensive and offensive abilities. A good hockey player can use both of these abilities. Adapt your controls to each situation. In exciting one-on-one hockey matches, you skate, jump, catch, and kick the ball into your opponent's goal. Develop your skills in this sport! You can also try your hand at a variety of other sports games, such as Archery and Crazy Football War. Relax!
Controls
To move back and forth, use the LEFT and RIGHT arrows. To jump, press the UP arrow. To move your hockey stick and score points, press F.