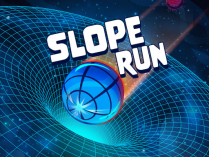 Slope Run
Slope Run will take you on an endless rolling journey. Take control of your hands and perform an entirely new feat. Your mission is to steer a ball through a space tunnel, avoid falling into space, and discover new planets. Keep your cool when faced with difficulties and challenges. You may encounter obstacles such as unstable bricks and massive jumps. What is your highest possible score? You can also find more games like this at slope games. Have a good time!
Feature
There are two game modes: Infinite Mode and Level Mode.
There are numerous tracks with numerous deadly obstacles.
Rankings are constantly updated.
Controls are simple, and the gameplay is endless.
3D graphics that pop to lively music.
Controls
To jump, use the up arrow key.

To move left or right, use the left and right arrow keys.