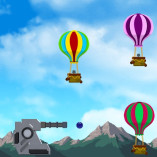 Pop the Balloons Game
In Pop the Balloons Game, an exciting action game, aim and shot precisely. Your mission is to employ cannons to fire carefully focused artillery at the balloons. Practice making pyrotechnics that are both high and accurate. You will have four chances to aim and shoot in order to explode the most balloons and earn the greatest score possible. After completing the lower stages, you can advance to the higher levels. Fire at the balloons. The amount of shots is limited, as it was previously. To attain good results, you must make the most of your shots.
With only one error, the cannon you fire could be damaged. This will work against your ability to proceed to the following level. Show off your skills right now!
Controls
Tap and hold the game screen to aim and shoot with the cannon.