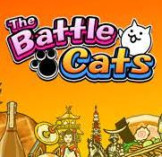 The Battle Cats
The Battle Cats is a fun game that combines elements of action and adventure. Your task is to command a cat army and defend your territory. Discover the simple combat system, which allows you to destroy any enemy that approaches your barracks. You will initially only have standard cats to attack enemy bases. However, as you progress through the game and defeat certain enemies, you will be able to add more people to your crew by unlocking them. Have fun!
Tips and Tricks
To win battles faster, try to level up your cat as much as possible.
Use your cat's energy meter wisely and upgrade for faster progress.
Remember to use your in-game currency wisely, as upgrading or producing more cats is critical.
Use the cat cannon effectively because it is your only main weapon in battle, and keep upgrading it to deal more damage to your opponent.
Controls
To play, use the mouse.