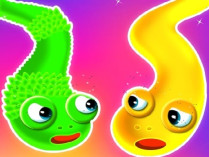 Snake Puzzle 300 Levels
The colorful snakes in Snake Puzzle 300 Levels are the puzzle pieces. There are 300 unique levels for you to play and test your skills on. All you have to do is guide the snakes up from the basement. The early levels are easy, but the game quickly ramps up in difficulty. To begin, you can look around and determine the fastest and most practical way for the snake to leave the area. Have fun with snakes of various hues.
When this happens, mental exercise can be done for long periods of time without becoming tedious. You have to keep an eye on the door so you can swipe to move the snake. This is a new take on the old snake game, and it's a lot of fun.
Controls
Mouse click or tap to play