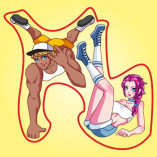 Pose To Hide: Puzzle
Pose To Hide: Puzzle is a new puzzle game that will test your wits. In which the player is tasked with putting everyone in a specific frame. The characters in each level can strike at various positions. Because time is constantly limited, complete the job as soon as possible. Attempt to find the ideal pose and location for the character in the frame. To switch positions, click on a girl or a guy. Then, in the stated frame, move the character to the required position.
In the game, you can customize the appearance and stance of the characters. After completing the objective, you will be able to progress to the next level. Complete the task in the shortest amount of time to earn the most stars. Begin solving problems right away!
Controls
Use the mouse to play.