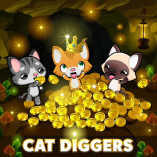 Cat Diggers
Cat Diggers is an idle clicker game that is simple to learn but extremely enjoyable. Tons of gold buried deep beneath can be found here. You may now dig gold with cat-shaped excavators. Continue to put in the effort, and the benefits will be well worth it.
Breaking stones along the road also earns you money, but the quantity is not large. Concentrating on finding gold can earn you a lot of money and will allow you to learn new skills. Upgrade hoes, drills, and other tools as needed in your search for riches. You can also unlock other sorts of cats, each with their own set of powers. Make the most of your time today to attain the greatest outcomes!
Controls
Use the mouse to play.