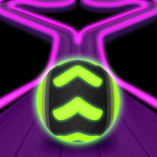 Ball Rush
Enjoy an infinite round of ball rolling fun with the 3D video game Ball Rush. The goal of the game is to get as far as possible by rolling the ball down the track while avoiding the many hazards. The right timing for left and right turns will allow you to dodge the spines. Then rack up some major points! When started, a list of missions will appear at the bottom of the screen. In total, you'll be completing 76 different assignments.
The goal is to get as many gems as possible while racing along the neon track with the luminous balls. Unlock additional interfaces once you've earned enough points. Get used to quick movement and hone your reflexes while taking in the stunning visuals. Now is the moment to hone your reflexes!
Feature
The gameplay in this 3D title is never-ending.
Visuals that stand out thanks to their use of neon lines.
Extreme difficulty and unforeseen roadblocks.
Leisure games have a lot of appeal.
Controls
To avoid obstacles, use the mouse button or arrow to shift the ball to the side.