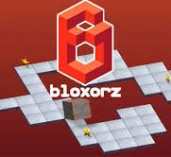 Bloxorz
Bloxorz is a challenging logic-based puzzle flash game. You must guide the rusty block through 33 stages of challenging puzzles while controlling it. Controlling the block is not easy. Use up and down and left and right controls to reach the desired location. If it falls out, the game is finished! Additionally, you should be aware of a few traps that could cause you to fail the level.
In Bloxorz, you'll find two distinct color palettes of floor tiles: gray and orange. While gray tiles do the job, orange bricks tend to break easily. A new round will begin if your block is upright on an orange square. You'll need to flip a switch that serves multiple purposes. While some switch all bridges open or closed, others are more selective.
When a switch is flipped, the bridge will flash red or green to let you know. The soft switch is activated whenever your block touches it. To activate the hard switch, your block must stand upright on it. The teleport switch allows your block to split into two smaller blocks in order to teleport to different locations on the plane.
Controls
Use the keyboard arrow keys to play.