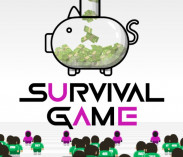 Squid Game
Squid Game is a well-known multiplayer game. Try to survive each mini-game as you compete for large prizes. Overcoming other players is no longer so simple that you may rely on luck. There are a total of seven minigames. If you are eliminated from a particular minigame, the game ends and you must begin again.
Games List
Red Light, Green Light
Dalgona Candy
Tug of War
Marbles
Glass Stepping Stones
Judgment Night
Squid Game
Feature
Survive in the end after many levels.
Online and Multiplayer mode.
The game is based on the famous movie Squid Game.
Controls
Use the mouse to play.