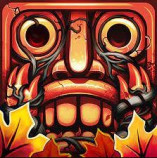 Temple Run 2: Jungle Fall
Temple Run 2: Jungle Fall is one of the Temple Run games based on the autumn theme of Lost Jungle. The first mission is to flee from dangerous apes with only one wrong move that slows you down and costs you your life. Navigate through the beautiful orange forest, avoiding traps and powerful enemies. Enjoy autumn and the best graphics while collecting special powerups to help you get to the finish line.
The player will occasionally come across a treasure room, which can be reached via the path to the temple or the zipline. Crystals, gold, and bronze statues adorned the treasure room. Are you an experienced treasure hunter?
Controls
PC:
AD or Left/Right arrow keys: Move
W or Up arrow key: Jump
S or Down arrow key:

Slide down
Mobile:
Swipe left / right:

Move and turn

Swipe up:

Jump

Swipe down:

Slide