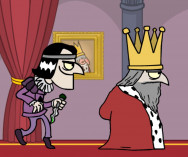 Murder
Become a killer in Murder. Without being caught, murder the king stealthily from behind. If you succeed, you will become the next king. If you fail, you will be captured and imprisoned in the shadows. If you are near the monarch, you can slowly remove the knife from its sheath and act. Will you be successful in completing the mission this time?
When sneaking up behind the monarch, you are also in grave danger because the king is also quite perceptive and can easily identify your flaws. Carefully plan your assassination, and when the time is appropriate, dispatch your monarch and crown yourself. If you enjoy this game, you can also continue to play Color Tunnel and Squid Game.
Controls
Press the SPACEBAR to assault or to turn around if you believe the king has returned.