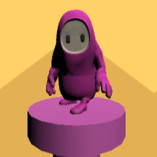 Fallerz.io
Fallerz.io is a platform and obstacle-running multiplayer game. This is a game similar to Fall Guys, in which you can compete with 20 other online players on this playing field. Your mission is to overcome all obstacles and cross the finish line as quickly as possible in order to advance to the next level. There will be numerous challenges that will increase the difficulty of the game in this frantic race.
Competitors will constantly compete with you and can push you to the brink of extinction. This can also be used to eliminate opponents. Observe the situation and devise a quick-play strategy. Unlock more customizations to help you improve your character. Play and have fun right now! If you like this game please play more Fall Boys and Girls.
Controls
WASD to move mouse to took space to jump.