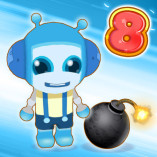 Bomb It 8
Bomb It 8 is an action adventure game, one of several Bomb It variations. In this game, the player must devise techniques for dropping bombs on other players and collecting things. Quickly observe, then drop explosives in nearby areas to help you uncover new paths. However, if you do not want to get blown up, do not stand too close to the bomb after it has been placed.
This is a type of cerebral flash game. The more obstacles and stuff you acquire, the faster you act. Destroy your opponents with bombs to earn a high score. The difficulty increases as the levels rise. At various levels, you can gain access to new skins as well as valuable and useful things. Furthermore, the coins you earn can be used to improve your character's glasses, caps, and clothing. Play right now!
Controls
Use WASD and arrows to play.