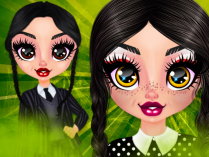 Gothic New Era
Do you like Gothic style? Those interested in playing a game with a dark tone and that is reminiscent of the movie Wednesday may enjoy Gothic New Era. Dressed in a manner that is equal parts ghostly, dark, gloomy, Gothic, and schoolboy.
Like Wednesday, a girl with a unique sense of style and character. Produce your own limited edition. First, clean the girl's face with the provided tools and products, and then apply any cosmetics you like. When you're satisfied with your own creation, save it as a PNG. And, are you up for some more Fairyland Merge & Magic action?
Controls
To play and create your own unique style, use the mouse.