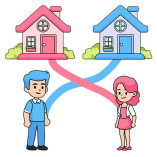 Home Rush Draw to Home
Bring your baby home safely in Home Rush Draw to Home. This is a fun game with levels that require players to figure out safe routes back home. There are lost children who are making their way back to their parents. Your mission is to return the babies to their rightful parents in a safe manner. However, there will be numerous obstacles on the way home that you must avoid if the children are to return home. Back holes, ferocious dogs, monsters, and other dangers can be encountered. They are all obstacles to completing the mission.
To achieve your objectives, you must use your own logical thinking to guide the children down their own paths. The game will end if you encounter any obstacles along the way. Don't forget to collect the coins; they'll come in handy later. Take on all the challenges! Additionally, you can play Cube Adventure Run.
Controls
Draw a path for the babies to return to their parents and avoid letting them collide with each other.