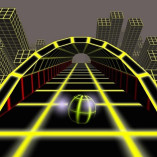 Ball Surfer 3D
Roll the ball as far as you can in Ball Surfer 3D, a 3D action game. The ball should be rolling at a steady pace with enough speed to quickly pick up speed when it encounters an obstruction. Steep inclines, winding pathways, and bottomless pits are just some of the challenges you can face. One false move, and you'll plummet off the path and into the void. Now the game is over, and you must continue from the very beginning.
Focus your full attention on moving forward as far as you can. Acquire additional blue gems as you travel. Maintain a steady ascent in points and honors. Gain bragging rights by mastering each level's unique challenges. Go on an expedition right this second! To get past obstacles, you should employ the tools at your disposal. Try your hand at some additional games that are like Rolling the Ball 3D.
Controls
Use A/Left keys to move left.
Use D/Right keys to move right.