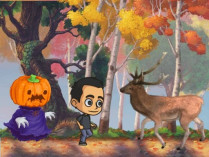 Autumn Endless Runner
The lovely fall woodland serves as the backdrop for Autumn Endless Runner, an endless runner game. As you jog, take in the gorgeous fall hues of the forest around you. However, spooky pumpkins pose a threat that you should be aware of. Those spooky pumpkins are enchanted, so they're truly coming to life and going on the hunt for anyone who wanders too far into the woods. You'll need to be in top physical form to outrun this.
Bears, deer, and a wide variety of other wildlife await you along the trail. You may easily avoid the oncoming creatures by timing your jumps correctly. You lose the game if the pursuing pumpkins find you and squash your hopes of escaping the animals. Don't let the beauty of the forest divert you for too long and cause you to miss the impending danger. Play more Slope Cyber if you enjoy games where you must continuously run.