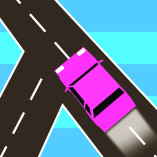 Traffic Run 2
Traffic Run 2 is a great way to exercise your focus and reaction time. This is a racetrack driving game with many other vehicles. Your objective is to cross the finish line and unlock more cars. You must control your speed as well as turn in corners. Concentrate to be able to respond quickly and effectively in any situation. The longer you travel, the more vehicles you will encounter and the more situations that will necessitate quick reflexes. In this game, you can practice and improve your reflexes.
Avoid all collisions and improve your driving skills. Cross the road without crashing and get to your destination. Collect more coins to purchase more colorful cars with a variety of new features. Now is the time to drive! If you enjoy racing games, Cube Adventure Run is a must-play.
Controls
Use the mouse to play.