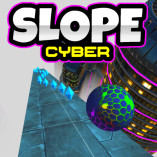 Slope Cyber
Welcome to Slope Cyber, an endless game in which you can explore the slopes. Your mission is to guide the ball through obstacles and as far as possible. In this 3D game, you'll learn how to maneuver and control the ball. It's time for you to take on new challenges!
The further you get, the more difficult and difficult it becomes. Collect all of the diamonds along the way to boost your score. You can use these diamonds to unlock new skins. Move carefully so that you don't fall out. If you fail, you must restart from the beginning. It's time for you to put your bravery to the test. Slope Cyber requires you to expend all of your energy.
Controls
Press A/D or left/right arrow to steer left/right.