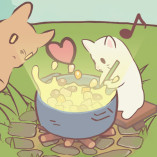 Cute Cat Town
The soup-making minigame in Cute Cat Town is a lot of fun. The kittens need your assistance in preparing some tasty soups. When you have enough goods to meet demand, you can start developing your city. Play around with the soup's constituents to develop your own special recipe. You can expand your business and buy more booths if you keep your customers happy. Gain wealth and fame as a chef in this virtual world.
The cash registers have the greatest material requirements. You can now access a wide variety of cooking implements, utensils, and dishes. Spend some of your hard-earned cash on kitty upgrades to make him even more productive. Let's get the game going.
Controls
Use the mouse to play.