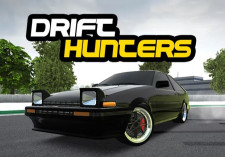 Drift Hunters
This is Drift Hunters, a 3D car drifting game in which you must climb into your vehicle and take on the perilous roads. Put your driving skills to the test and take to the track. Prolonging your ability to steer through the drifting terrain will increase your score. Now that you've raced against the clock and overcome obstacles on zigzag tracks, you can reward yourself with the purchase of luxury vehicles like the Porsche 911 GT and 24 others. Ready to play more Drift Boss!
Feature
Incredibly fun drifting and racing on 15 incredible tracks.
More than 25 incredible drift cars here.
Make your racing car better in every way possible, from the brakes to the turbo lag, front camber, and rear offset.
The music has a vibrant and interesting sound.
Gain high rankings by scoring well.
Controls
UP: Gas

DOWN: Brake

LEFT: Steer left

RIGHT: Steer right

SPACEBAR: Hand brake

C: Change camera

Left shift: Shift up gear

LEFT CTRL: Shift down gear