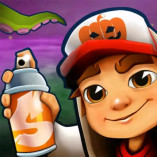 Subway Surfers Cambridge
Continue your adventurous voyage in Subway Surfers Cambridge. Jake is being pursued by the railroad guard. Your mission is to morph into Jake and flee from the guard. Running over subway lines might present numerous obstacles. However, in order to go to Cambridge, you must take each issue calmly. Your adventurous race will continue, but in new settings and cultures. Many sites and other difficulties can be seen along the journey.
In this adventure, you must jump and avoid obstacles in your path in front of you. Collect coins and keys, then select your character and pull the skateboard from the box. Unlock new clothes to further customize your character. Power-ups will arise along the road; make sure to acquire them all. Magnets, jet packs, and leaping shoes are all available. Each variety will have its own distinct characteristics. Use them, and use them correctly.
Controls
Use the mouse or arrow keys to move
Spacebar for hoverboard