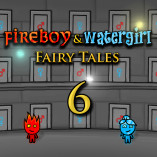 Fireboy & Watergirl 6: Fairy Tales
Are you prepared for a difficult voyage in Fireboy & Watergirl 6: Fairy Tales? In the ancient temple, you can discover amazing artifacts full of mystery. It is not easy to complete all 31 levels. Your mission is to overcome various riddles in order to reach the end without falling into any traps. To begin, you must guide the two heroes through a temple and overcome obstacles to reach the exit.
Take note of the qualities of the fireboy and watergirl. The fire child can walk through the lava but will perish if he comes into contact with water. Watergirl is capable of walking underwater but is vulnerable to fire and lava. You must collect red, blue, and white gems along the route. Simultaneously, practice the skills thoroughly to avoid any future complications. Are you ready to have some fun? Let's play some more adventure games!
Controls
Fireboy:
Left and right arrow keys - Move
Up arrow key - Jump
Watergirl: