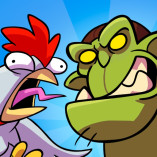 What The Hen!
What The Hen! is a strategy game in which you must become a hero in order to defeat the invaders. Your objective is to gather and use over 100 hero and heroine cards. Develop your character on a regular basis to make him a super-strong hero with whom no one can compete. Defeat deadly bosses and finish quests by putting your all into battle.
You'll be challenged throughout multiple stages as you work to achieve objectives and eliminate foes. Different units are used at various stages. Tanks, fighters, and bombers are just some of the many types of units at your disposal. Make good use of them. In the PvP arena, you can engage in strategic duels with millions of other summoners. Obtaining additional areas and upgrades. Reap the benefits and have fun trying new things.
Controls
Use the mouse to play.