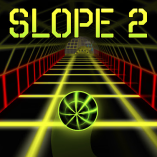 Slope 2
Play Slope 2, an endless running game on several platforms, with the ball. Your mission is to keep the ball travelling forward along the track while surrounded by a three-dimensional cityscape. Avoid obstacles and earn diamonds to buy extra balls by using your balance skills.
As you move back and forth, the ball accelerates, and the obstacles become increasingly harder to avoid. To be able to upgrade the ball with new skins available in the shop, you must first acquire more diamonds. Keep the ball from going off the platform by using your skills and expertly leading the ball to the finish line by taking advantage of every opportunity. The game will end if you fall off the platform.
Similar games
Challenge more endless running games, face many unexpected challenges!
Controls
Use AD or left/right arrow for navigation
Tap 1, 2, or 3 to utilize power-ups