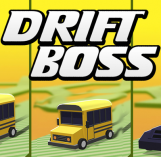 Drift Boss
If you enjoy car drifting, don't pass up Drift Boss. Get behind the wheel of a fantastic vehicle in this car-themed flash game and see how far you can drift it. Enjoy the fun, excitement and get the biggest score so you can buy other cars. Your task is to drive around the difficult corners and pass the bends until you fall off the platform. You'll be fascinated by the toon car, especially since there are eight cars for you to unlock at a set price. In order to succeed, you'll need to make precise turns and navigate obstacles like dips, bumps, and tight tunnels. Don't forget about the additional challenge with Racing Go. A question: Are you ready?
Booster
Coin Rush, Car Insurance, and Double Score are the game's 3 available power-ups.
Coin Rush: When you select this booster, you will be able to collect all of the coins that appear on the track. If Coin Rush is disabled, coins appear in limited quantities on the track. One of the Coin Rush boosters costs 75 coins, making it the most expensive booster in the game.
Car Insurance: You get two shots at getting auto insurance in a single playthrough. If you choose this booster and get knocked off the track, you'll be revived. To insure a car will set you back a mere fifty cents.
Double Score: Your session score is multiplied by two. This is extremely useful if you are attempting to achieve the highest possible score in the game. This is the cheapest booster available for 25 cents.
Controls
To go right, use the mouse's left button or the keyboard's space bar.