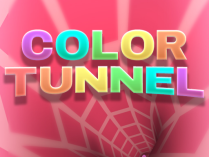 Color Tunnel
Welcome to Color Tunnel, a colorful endless tunnel sliding game. You are impeded by obstructions. How will you overcome all those difficulties? Do not fret. You must avoid the red obstacles and travel through a high-speed tunnel to master the game.
Color Tunnel is engaging due to the assortment of obstacles. There are sudden or constant moving obstacles that increase the difficulty of the game. Avoid colliding with cylinders and triangles that are in motion. Each tunnel is adorned with colorful or black-and-white patterns that are both eye-catching and visually appealing. Don't let these dazzling colors and designs distract you. Focus on the upcoming obstacles.
For those with a passion for endless running games, this is a worthwhile game. Popular endless running games include Tunnel Rush 2 and Slope 3.
Tips or tricks
Learn about and become familiar with tunnels and obstacles.
Adjust the fingertips' sensitivity.
Remain composed and focused; do not let anxiety interfere.
Pay attention to the red obstacles.
Controls
Use left and right arrow to move.