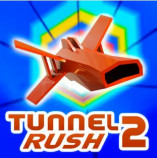 Tunnel Rush 2
Challenge yourself with Tunnel Rush 2, a fanciful 3D platformer. Enter a tunnel filled with neon colors and pulsating sounds and plunge forward. You must pilot your ship in order to move forward and avoid obstacles. The further you progress, the more obstacles you will encounter. Collect coins and navigate winding tunnels and bends to upgrade your ship. Enjoy!
If you've played Tunnel Rush 2, you can't ignore Tunnel Rush and Tanuki Sunset.
Game mode
Classic mode: Different difficulty levels provide a variety of challenges.
2 player mode: Compete against your friends and family to earn the highest score.
Tips and tricks
A game with multiple simple difficulty levels and numerous variations. Maintain concentration on the screen and employ flexible fingers. Develop natural reflexes for responding to unexpected situations. Also, maintain your composure, take a deep breath, and begin!
Controls
PC: Arrow keys A/D or Left/Right - Move left and right.
Mobile: Touch and hold the left or right side of the screen.