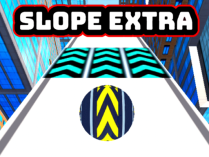 Slope Extra
Have fun with Slope Extra, a 3D obstacle avoidance ball control game. Your goal is to get the ball as far as possible while avoiding ramps and other obstacles. There are nine distinct balls. You can purchase these balls with the diamonds you earn throughout the game. Collect as many bonuses as you can. It will help you improve your skin and give you a better chance of progressing. To go even further, concentrate hard and control your fingers with your flexibility. Also, try out similar games like Roller Baller and Rolly Vortex.
Controls
On the PC, move the mouse left and right.

On mobile, move the ball left and right with your finger.