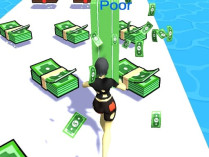 Girl Money Rush
In Girl Money Rush, you can purchase a luxurious car. This is the time when you can earn and save money in order to accomplish your dreams. On the track, you will be continually moving in order to gather all of the various heaps of money. There are gates that raise the amount of money you earn, but there are also gates that take money away from you. So please think twice before moving. If you don't want to lose additional money, don't move into the red heaps. Make yourself a billionaire with a lot of money. This requires a reasonable playing approach as well as sound budget management. Break your own goals!
Your money affects whether you can continue or not at the final gate. Experiment with different levels and tell us what your greatest quantity is. Aside from Girl Money Rush, you may also play Cube Adventure Run and other games.
Controls
Use the mouse to play.