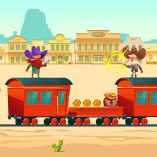 Train Bandit
Return to the Wild West on a rail adventure in Train Bandit. Change into a robber and flee with the treasures you've gained. The police chief is on his way to arrest you. One small mistake, and you could be arrested right away. Place your feet firmly on the bogies and begin your journey. Begin jumping and sprinting, fighting valiantly, and confronting the opponents. Avoid the sheriff's bullets and retaliate quickly so the opponent cannot respond in time. Jump from one spot to the next, paying close attention to the front.
The police chief is deploying a large number of officers and traps to apprehend you. You need a strategy to escape as a thief with numerous techniques and bravery. The treasure you obtain will be extremely useful in your next task. Begin playing right away! You can also play Zombie Mission 10 if you enjoy adventure games.
Controls
Use arrows and mouse to play.