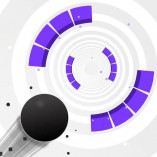 Rolly Vortex
Fantastic 3D racing and obstacle-avoiding game: Rolly Vortex. You can race indefinitely. Your score will be based on how long you are able to go without dying while dodging hazards. Which score is your highest?
To get the ball to the center of the target, you'll have to navigate it past a few challenges. Any one of the whirling walls could suddenly be home to one of these hazards. You'll have to sharpen your reflexes and maintain vigilance. Focusing on your hand reflexes can help you overcome challenges quickly and easily. Games like Horizon and Horizon 2 are alternatives that offer a similar experience.
Feature
Endless gameplay, easy to play and control.
Customize skin changes.
Simple user interface.
It is optimized for mobile devices.
Controls
Drag to turn left or right, collect coins, and avoid obstacles by using the drag-and-drop method.