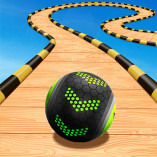 Rolling the Ball 3D
Rolling the Ball 3D game features an infinite track. To win, you must control the blue ball as it rolls down the difficult route and gather all 5 balls. With realistic 3D graphics, finely planned roads, and a large space background. You can feel the thrill of completing each level. To win, you must control the ball's rolling, turning, and jumping. Even the most difficult hurdles can be conquered if you try again and again.
The steep slopes are a challenge to overcome because you must roll the ball over them. Gain enough momentum to roll up without rolling back. This talent must be practiced numerous times. In this game, you can test out talents one by one and get achievements. Immerse yourself in the lively music, and you will never be bored! The subsequent levels will become increasingly difficult, and you must be careful not to slide off the course. Now you can play Rolling the Ball 3D!
Controls
Use the mouse to move left and right and forward.