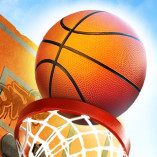 Basketball Kings 2024
If you're a fan of basketball, you won't want to miss Basketball Kings 2024. Your mission now is to break the record for most goals scored in a single game. Your superior playing skills allow you to throw the ball with pinpoint accuracy. You have a certain amount of time to make a basket. It's important to keep in mind that the shield with the basket can shift its position at any time. You can unlock more balls if you try to beat your high score.
This is a difficult game that calls for maximum accuracy from its players. Learning to throw the ball effectively makes carrying any distance much simpler. Many new features have been added to the game. Feel the visuals and the pulsating soundtrack combined. Where do you fall on the scale of success?
Controls
Press and hold the ball in the air, aim at the target.