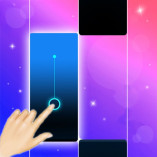 Piano Master
Learn to play the piano? Let's play Piano Master and compose some beautiful music. Now you can hone your musical perception skills and respond instantly to sounds. Your mission is to tap the boxes at precisely the appropriate moments so that a song is played. If you don't check every box, you'll have to restart the game and only listen to the song once. You can keep practicing until you reach a comfortable level of competence.
Different melodies will be used in each track. The tempos of the songs will vary from slow to rapid. Select a tune that moves you and play the rhythm at its tempo. First, test your limits with slower tracks, and then up the ante with faster ones. Accumulating crystals and coins is a representation of your success. It's time to play and take on challenges!
Controls
Tap on the black box, don't miss and follow the rhythm of the melody.