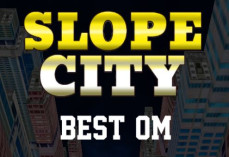 Slope City
Welcome to Slope City. This is the location where you can test out the fast-paced game. Your aim is to manage your ball at full speed down the city's dizzying slopes. Your ultimate goal is to avoid obstacles, hop over platforms, and level up. Handle unforeseen scenarios in front of you quickly. The variables that influence your score include speed and quick reflexes, which may be improved with practise.
Consider the distance in order to foresee and avoid a plethora of dangers and barriers. You can also gather more power-ups to help you progress. Gather additional coins and use them to purchase new shapes. From above, you can view the entire city if you look at the buildings. The game's drama is enhanced by pixel graphics and dynamic music. Let's get started right away!
If you enjoy endless running games, you can also play Rolly Vortex and Slope Extra.
Controls
Use the left and right arrow keys to play.