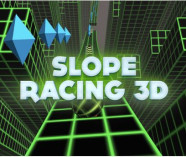 Slope Racing 3D
Playing Slope Racing 3D will put your skills at controlling a ball to the test. It's not easy to get the hang of the ball when you have to navigate varied inclines. Take it easy on a random downhill and see how far you can get without colliding with anything. Try not to crash into the wall while gathering tokens. Ball enhancements are also available at this time.
Now is your chance to demonstrate your skills as well. Maintaining the ball's equilibrium and timing your jumps over the platforms are essential to achieving maximum distance. This is getting more exciting and difficult by the second as the ball accelerates. Quickly get around obstacles by stretching your hands out. Where do you go from here?
To continue on the unending track, you must maintain your composure. The further you get, the higher your anticipated score. The frequent turns in the route make driving extremely hazardous. You can play even more Ball Rush if you enjoy Slope Racing 3D.
Controls
Use the WASD keys.