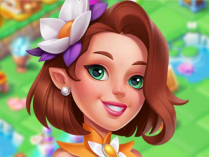 Fairyland Merge & Magic
Fairyland Merge & Magic is a relaxing fusion game where you can enjoy the enchanted fusion environment. Plunge into a world where dragons, unicorns, elves, and more can be mixed together to make new creatures.
Here, you can meet lovely faeries who will instruct you on how to combine magical plants. Make a unified universe full of amazing things. Expand your horizons to higher levels, where enchanted gardens await your discovery. That's right, absolutely nothing is out of the question! If you want your horizons to widen, you should visit all of them. Join up and expand your social circle!
Controls
Click and drag with your left mouse button.