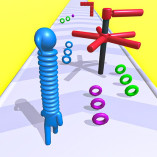 Long Neck Run 3D
In Long Neck Run 3D, you can become the person with the world's longest neck. This is a racing game in which females must acquire all necklaces that are the same color as their body. The road ahead will provide several challenges! You simply must dodge them skillfully in order to get safely at your destination. The ultimate goal for you is to have the world's longest neck. Choose a necklace that is appropriate for you. When going through colored curtains, however, the runner changes color, requiring the rings to be collected in a different hue.
Try to gain as many points as possible while wearing the necklaces. If you lose track of time and acquire the wrong ring, your character's neck will get shorter. Gather ancient parts and evolve them to earn the most extra points. Break every previous record. You may also play more games that are similar to Stack Runner Short Path Racing.
Controls
Use AD/Left and right arrows to move.