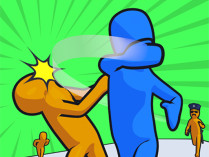 Slap & Run
Slap & Run is a fun game that consists of fast slaps and runs. Turn into the city's top parasite and promptly take action to let everyone know it. No one is safe from your joyous slap as you rush through town slapping everyone and anything you come across. Back and forth on the running lane to slap as many people as you can.
Beware of the gathering crowd that will pursue you as you receive more blows. When obstacles occur in your path, you can hop over them by clicking on the screen. The more individuals you slap, the more the throng will attempt to pursue you. You must avoid obstacles and gunfire that will impede your movement as you attempt to flee an angry mob. Act quickly!
Controls
To play, use the mouse or touch.