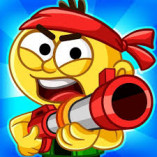 Raft Wars
Welcome to Raft Wars, a one-of-a-kind artillery game with a vibrant comic style. In this war game, aid Simon in defending his treasure from pirates. Defeat enemy squads by aiming and shooting with your homemade cannon raft. Kill enemies while earning money by taking strategic hits to unlock grenades, missiles, and raft upgrades.
Pirates from all over the world want to compete with this little guy for the treasure chests. Simon is determined to protect his hard-earned treasure with the help of his brother and dog. Build your own raft, sail around Raft Wars' colorful world, find treasure chests, and improve your raft to become the best treasure hunter the vast ocean has ever seen. If you enjoy this game, you can also try your hand at Slope 3 and Tunnel Rush 2.
Controls
Use the mouse to aim and shoot.