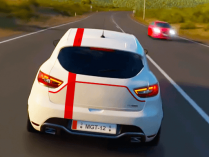 Highway Racer 3D
Welcome to Highway Racer 3D! A speed racing game with many attractive game modes that you should not miss. Your mission is to safely navigate your vehicle through heavy traffic while avoiding collisions with other vehicles.
Each player can pick from a wide variety of play styles. Lanes can move in two different directions when set to two-way mode, or they can move in the same direction when set to one-way mode. In this mode, attacks have a set amount of time to do their damage. In speed bomb mode, you get to control a truck full of explosives. When you take enough of a blow, the bomb will go off. You can also choose between daytime, cloudy, and rainy weather. Take your car to the limit and make breakthroughs!
Look for alternatives to Crazy Football War and Racing Horizon. Your feedback on these games is greatly appreciated.
Gaming Tips
More points are better when you take control of a fast car and race around at high speeds.
By going in the opposite direction, you can make a big difference in your score.
Do not underestimate the importance of using the brake to avoid a collision.
Controls
You can control the car using your keyboard keys or your mouse.