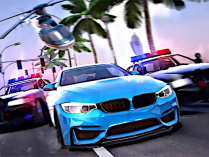 Racing Horizon
Racing Horizon is a surreal 3D racing game in which you must compete with other racers all the time. To win first place on the road, you must be prepared to face other vehicles, hazards, and hundreds of other sports vehicles.
Hit the gas as you go on a special assignment requiring you to flee from the cops while savoring the sensation of speed on your skin. When you need instant velocity, just press the nitro button! Join the race and race through traffic to the finish line, but keep an eye out for cops. You can also try your hand at racing games such as Moto X3M Pool Party.
Game Hints
The worse the weather, the more coins you get.
Increase your speed to the maximum.
There are no lane rules, so break from the bottom.
Controls
W / up arrow key = speed up

Brake = S / down arrow key

A / left arrow key = go to the left

D / right arrow key = right movement
N = NOS
C = adjust the camera's perspective