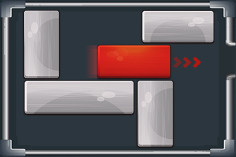 Unblock Puzzle
Unblock Puzzle is a challenging puzzle game for players. Apply logic to solve riddles! The objective is to relocate the blocks and remove the red block from the board. You should only go up, down, and to the left and right to maximize your efficiency. Train yourself with 4 different levels. Choose the one that suits you best. You can also use suggestions to advance to the next level if you get stuck.
To easily complete the stages, you must understand the game's rules. Only horizontal movement is permitted for horizontal blocks. Vertical blocks can only be moved in the vertical direction. So choose your steps carefully. This game can be used to train and improve logical thinking skills. Act immediately!
If you enjoy playing logic-based puzzle games, you can also play more Bloxorz.
Controls
Use the mouse to move the blocks.