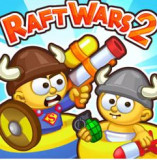 Raft Wars 2
Challenge of the treasure hunt in Raft Wars 2. This is an exciting flash game that is the sequel to Raft Wars. Your mission is to locate the hidden treasure from the previous section. However, facing you is a group of lifeguards. With each level, the pirates' attempts to attack you will become more aggressive and reckless. Utilize the physics theorem in order to fire at the enemy.
In Raft Wars 2, Simon will gain access to secret dialogue options after detonating the whale if he completes all levels without being hit. Cause as much chaos as possible at the water park by fighting the security, throwing paint into the pool, and upgrading your raft. From your raft, use a variety of upgradable ammunition to eliminate troublemakers. With the money earned in combat, you can upgrade your character's attributes. Have fun!
Controls
To play, use the mouse.